NPP Diaspora Executives Press Release 
The National People's Party (NPP) Diaspora Chapter would like to register its utmost concern around the purported NPP Diaspora Congress in Sweden in which some Diaspora NPP supporters claim to have selected another Diaspora Executive Members.
It could be recalled that the Umbrella NPP Diaspora conducted their Congress back in December 2022. This was done virtually under the auspices of the outgoing NPP Diaspora Chairman, Mr Lamin S. Demba. In that said Congress, the entire NPP Diaspora chapters participated across the globe and elected a decentralised Congress across all the regions of the NPP Diaspora. Mr Lamin Fadera was elected as the chairman of the NPP Diaspora.
It was disappointing that few Diaspora members decided to boycott that Congress on the grounds that they wanted the congress done in Sweden and a form of Musical Jamboree. Putting into account the African delegates might be disadvantaged due to visa restrictions and financial constraint reason, the outgoing Chairman outlined those potential restrictions to the members who are in Africa and indicated that there is a possibility the African delegates will be denied the chance to participate in the Congress. Upon consultations with the outgoing Executive, it was then unanimously agreed that Congress be done virtually. To everyone's dismay, a few individuals who have not been cooperating with the outgoing Diaspora Executive Decisions decided to boycott the Congress.
Considering the above stated, it is not a surprise that the purported congress done in the name of the NPP Diaspora was confined to these very few people who boycotted the NPP Umbrella Diaspora Congress back in December 2022. We have confirmed that Demba SABALLY who attended the so-called congress was neither sent  by the President as claimed by him, non by the party to attend this so-called Congress in Sweden, Therefore the NPP  Diaspora Umbrella will like to call on Demba Sally to desist from interfering into the NPP Diaspora matters, as it is NOT under his purview neither his responsibility at the NPP Executive level.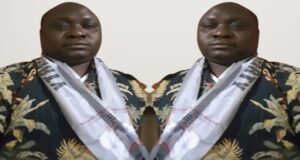 The National People's Party (NPP) Diaspora Chapter would like all and sundry to know that this purported Congress in Sweden does not represent the NPP Diaspora Chapter but rather few individuals who are out to gain self-relevance in the name of NPP Diaspora. We therefore condemn this group hell bent on showing seeds of separation and discord within the NPP Diaspora.
The umbrella NPP Diaspora Executives Elected back in December are tabled below.
Name
Position
Country of Residence
Country/chapter

Chairman/Chairperson

 
Mr. Lamin Fadera
Diaspora

Chairman

United

Kingdom

Nyima Kinteh

Vice Chairperson

Mr. Ebrima Sillah
Diaspora Vice Chairman
Angola
Mr. Ebrima Sillah

Ms Nyima Kinteh
Secretary
United Kingdom
(Vice Chairperson)

UK Chapter

Mr. Dawda Nasso
1st Deputy Secretary
Mauritania
Modou Kanteh
Mrs. Ya Ida Jallow
2nd Deputy secretary
Italy
Salihu K Barrow
Ms Assa Sillah
Mobiliser
France
Assa Sillah
Mr. Alhagie Kijera
1st Deputy Mobiliser
Spain
Kitim Ceesay
Mr. Ebrima Suso
2nd Deputy Mobiliser
Libya
Ebrima Sillah
Mr. Alagie Camara
Treasurer
United Kingdom
Nyima Vice Chairperson
Mr. Banumou Sillah
1st Deputy Treasurer
Nigeria
Banumou Sillah
Mr Basillah Ceesay
2nd Deputy Treasurer
Angola
Ebrima Sillah
Mrs Fatou Jambo
Fundraiser
Senegal
Fatou Jambo
Mrs Fanta Kanteh
Deputy Fundraiser
Italy
Salihu K Barrow
Mr Kitim Ceesay
PRO
Italy
Kitim Ceesay
Mr. Amadou

Sankareh

Deputy PRO
Holland
Amadou Sankareh
Mr. Foday Manjang
Auditor
France
Assa Sillah
Mr. Ousman Bojang
1st Deputy Auditor
United Kingdom
Nyima

Vice chairperson

Mr. Bawore Kalonga
2nd Deputy Auditor
Siere Leone
Bawore Kalonga
Mr. Yaya Dampha
Media & Com.
Sweden
Mr. Amadou Sankareh
1st Deputy Media & Com.
Holland
Amadou Sankareh
Mr. Alagie Barrow
2nd Deputy Media & Com.
Italy
Salihu K Barrow
Mr. Muhammed Jafuneh
3rd Deputy Media & Com.
Italy
Salihu K Barrow
Mr. Salihu K Barrow
Head of Operations
Italy
Salihu K Barrow
Mr. Musa Drammeh
1st Deputy Head of Operations Manager
Senegal
Fatou Jambo
Mr. Lamin Demba
2nd Deputy Operations Manager
Ebou Bah A.K.A Sering Thiapathiol
Youth Co-ordinator
United States
Mr. Jimmeh Magaraga
Co-ordinator For Asia
South Korea
Jimmeh Magaraga
Mr. Abdoulie K Jawara
Campaign Manager
Germany
Mr. Modou Kanteh
1st Deputy Campaign Manager
Mauritania
Modou Kanteh
Mr. Alkali Jawla
2nd Deputy Campaign Manager
France
Assa Sillah
Baba Fatty
Advisory
Italy
Salihu K Barrow
Mr. Yusupha Samura
Advisory
Guinea Bissau
Ousman Sonko
Mrs. Mariama Jammeh
Advisory
Sweden
Mariama Jammeh
Mrs. Mariama Ceesay
Advisory
Sweden
Mr. Abdul Karim Sinera
Advisory
Mozambique
Abdul Karim Sinera
Mr. Amadou Drammeh
Advisory
Togo
Amadou Drammeh
Mrs. Bakoto Janneh
Advisory
United States
Mr. Solomon Demba
Barrister & Legal Adviser
United Kingdom
By Mr Kitim Ceesay PRO NPP DIASPORA
Mr. Yaya Dampha Head of Media and Communications.