Media publishers and managers pushed back Tuesday on the rise of misinformation and fake news as they embrace the Journalism Trust Initiative (JTI) geared towards promoting the credibility of quality journalism.
"As journalists, you are naturally change agents in society," Information Minister Lamin Queen Jammeh said in a statement delivered at a one-day workshop on journalism trust initiative for media publishers and managers in The Gambia which was held at Senegambia hotel, Kololi, some 11 km away from Banjul.
The day long workshop brought together participants from the print, electronic and online media and is meant to familiarize them with a new tool that could help to strengthen trust in news outlets.
Minister Jammeh reminded participants that government is committed to free press, adding it is a "requirement for a democratic society."
Speaking earlier, Reporters Without Borders Africa Director, Sadibou Marong, emphasized the need for Gambia to get involved in the Journalism Trust Initiative which has been endorsed by 50 countries.
According to the last RSF Press Freedom Index, Gambia has been ranked among the continent top 5 while taking the 46th place at global level, contrasting with the Jammeh era rankings.
Marong made it clear that RSF is teaming up with the Ministry of Information to secure Gambia's participation in the partnership of information and democracy, adding that the intergovernmental agreement has been endorsed by 50 countries around the world.
He further stated the partnership is meant to guarantee democratic values, including freedom of information and expression.
The RSF top official seized the opportunity to call on Gambia government to do its utmost best to repeal the 'problematic provisions of the media laws' and strengthening the economic environment for better media sustainability.
Meanwhile, a handout released by RSF and seen byJollofNews indicates that the "initiative provides trustworthy journalism with a tool to clearly distinguish itself from the hotchpotch of commercial messages, propaganda and pseudo journalism that is flooding our information space."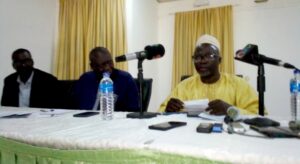 While acknowledging that there are still challenges lying ahead, Gambia Press Union Secretary General Modou S. Joof noted that the media are doing good in terms of press freedom.
Weighing in on JTI project, Joof said since 2017 the press union has tasked itself with the responsibility to enabling a credible and trusted media industry in the country.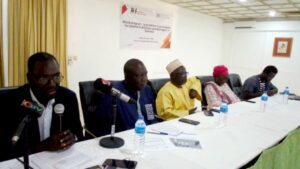 He further stated that the setting up of the media council is illustrative of GPU commitment to promoting credibility in journalism.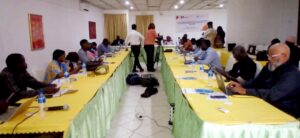 Other speakers included the Dean of RSF correspondents in Africa Pap Saine and State House Director of Press Amie Bojang Sissoho. They both reiterated the urgent need for the media to desist from being a loudspeaker to misinformation and fake news.