Former Prime Minister Aminata Touré has decried Senegalese government plans to increase presidential power, describing the move as "surprising and worrisome."
In an exclusive interview with JollofNews, she made it clear that President Macky Sall is supposed to leave power after the completion of his second and last term.
The Senegalese leader called the National Assembly to convene Monday into an extraordinary session to address urgent matters, including the passing of a draft bill that will allow him to dissolve Parliament.
Weighing in the decision initiated by Macky Sall regime, Presidential hopeful told JollofNews that there is no doubt that the mandate of Benno Book Yaakar Coalition emblematic figure ends in February 2024.
However, she was quick to add that a good number of opposition parties are deeply suspicious of the amendment of section 87 of the Constitution meant to substantially alter the power of the country's law-making body.
"The intention is purely political," she voiced out while indicating that President Sall is making desperate attempts to keep his party and the coalition united around his presidential pick.
Fears are mounting about a possible disintegration of the governing coalition of political parties that have presided over the destiny of Senegal since 2012.
Some political experts are still with the belief the appointment of a frontrunner for the top job will inextricably trigger divisions within Benno Bokk Yaakar as many government officials are set to break ranks and announce their candidacy.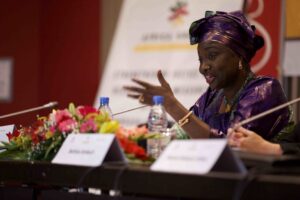 "Macky Sall is manipulating the Constitution for the sake of preserving the interests of his political organization," she emphasized.
When asked if the MPs will endorse the draft bill, she responded in the negative. She then added: "They cannot okay a bill that will put in jeopardy their parliamentarian seat."
Commenting on the shrinking of the democratic space in Senegal, Mimi Touré called on Senegalese to close ranks and stand firm on their grounds when facing challenges.
Over these past months neighbouring Senegal is descending into a Jammeh-era like situation punctuated by arbitrary arrests, summary executions and enforced disappearances.