The Police are searching for a man who shot members of the Police Intervention Unit (PIU) and killed two in an incident that has left a good number of Gambians under shock.
"In response to this grave situation, an immediate manhunt has been initiated to identify and apprehend the individual (s) responsible for this incident," the Police said Tuesday evening in a news dispatch obtained by JollofNews.
The sad turn of events that took place at Sukuta Traffic Light raised concerns about the rampant insecurity prevailing in the country.
According to the Police, a male eye witness is cooperating with investigators to help shed light on the "lone gunman who was wearing a Kaftan and carrying a pistol."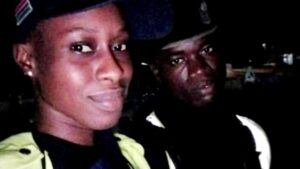 "The incident unfolded in perplexing circumstances, concealing the motives behind this brutal attack in secrecy," the statement added.
The Police further stated that the "injured officers were swiftly transported to the Sukuta Health Center, and due to the severity of their injuries, they were subsequently transported to the Ndemban Clinic in Bakau."