Gambia Inspector General of Police (IGP), Abdoulie Sanyang, commended Woman Police Constable (WPC) Ancy Jawo for "her heroism and professionalism."
In a statement obtained by JollofNews, the country's law enforcement body said the IGP visited the shooting survivor this afternoon as she continues to undergo treatment at the Intensive Care Unit of Edward Francis Small Teaching Hospital (EFSTH) in the capital city.
WPC Ancy Jawo was with PC Sang J. Gomez and Pateh Jallow when they were targeted by the alleged shooter Ousainou Bojang. At the time of the incident, IGP Sanyang was out of the country. Upon returning the official trip, he did not spare time to visit the Sukuta shooting survivor and pay his final respects to PC Sang J. Gomez who was laid to rest today in his home village of Kiti.
The IGP seized the opportunity to express "gratitude for the exceptional cooperation from the public and all involved during these challenging times."
He then lauded their "their swift assistance" that "led to apprehension of the primary suspect."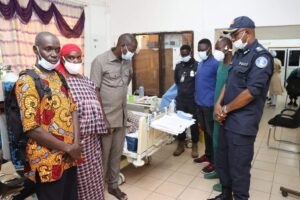 The country's top cop called for "continued support for the ongoing investigation" and "reaffirmed his commitment to ensuring that the perpetrators of this heinous act face the full force of the law."
Source: Gambia Police Force (GPF)