Gambia's health minister on Thursday said there should be equity regarding health and human suffering in the world, adding that the United Nations takes health issues seriously.
"I sincerely think the United Nations is taking the health issues of the whole world very seriously, including the developing countries. But I think we need to know the challenges, Ahmadou Lamin Samateh told Rudaw's Diyar Kurda on the sidelines of the 78th UN General Assembly in New York City.
"There needs to be equity when we talk about health, when we talk about human suffering that cannot continue to happen because people are poor, that cannot continue because people do not have the resources," he added.
"A person cannot stay in pain, in suffering because [he or she] does not have the resources to pay for medications, does not have transportation to go to a health facility. And these are the realities in some parts of the world," the minister noted.
The high-level week of the 78th annual UNGA commenced on Tuesday and will continue through next week. Hundreds of world leaders and delegates have gathered in New York to attend the event, with around 150 heads of states and governments set to deliver speeches.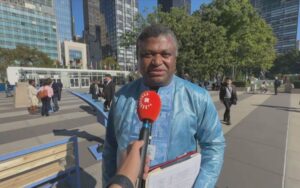 The theme of this year's summit is "Rebuilding trust and reigniting global solidarity: Accelerating action on the 2030 Agenda and its Sustainable Development Goals towards peace, prosperity, progress and sustainability for all."