The Khalife General of the Nyassen Muslim brotherhood, Cheikh Mahi Niass, has unleashed hell on Senegalese opposition, describing them as "useless."
In a speech delivered yesterday and widely shared on social media platform, Cheikh Mahi Niass said in Nigeria, opposition parties are building schools, playing a key role in the country's development process.
"But in Senegal, opposition leaders are well known for promoting hatred, inciting violence plunging the country into instability," he lashed out.
Thousands of West Africans are converging to the holy city of Medina Baye, Senegal to keep the legacy of Cheikh Ibrahima Niass alive in celebrating Mauloud Nabby.
He urged the youths to desist from following opposition leaders that are calling on them to get into self-destruction.
"Stand firm against those who want lure you into self-destruction," he warned while indicating that they are not afraid to be criticized.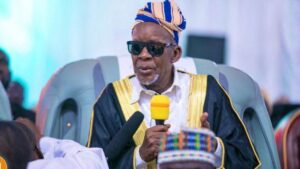 Senegalese will go to polls in February 2024 to elect a new leader that will preside over the country's destiny in the next five years.
As calls are intensifying for Senegal to part ways with former colonial ruler, France, the Khalif General made it clear those advocating for the divorce are wasting their time.
"We can't be separated from France," he voiced out.