Lawyer Lamin J Darboe has Wednesday raised concerns over the prolonged of his client, Ousainou Bojang, accused of killing two policers and seriously injuring a third.
"His continued detention and questioning must stop, and the State must file an "information which shall be in the form of an indictment and shall state in writing the charge against the accused" (see section 175B (a) of the Criminal Procedure Code," he said in a six-paragraph statement shortly issued after his meeting with the primary suspect.
Court documents seen by JollofNews show that Ousainou Bojang will face murder and terrorism charges. His sister who intentionally helped him to escape arrest will also be slapped with murder charges.
Lawyer Darboe went on to say that his "client's continued detention beyond 72 hours without filing an "information" against him runs counter to the Constitutional timelines on lawful detention."
"In addition, holding him at a police station when a Court ordered his detention at Mile 2 Central Prisons is also unlawful," he point out.
He then added:" I urge the State to put my Client before a competent Court without further delay. The justice of the case demands that!"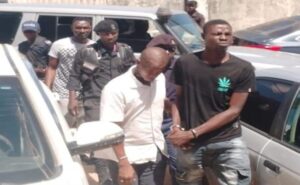 Meanwhile, Lawyer Darboe took the opportunity to announce that the authorities have granted him access to his client after dragging their feet for over one week.
He further stated that he "had a private discussion with him for some 45 minutes this afternoon (Wednesday) after securing cooperation with the Government panel constituted to investigate the case. "
According to him, this new development was "quite an improvement", contrasting to what happened last Thursday "when access was unlawfully denied," to him.
"He informed me the police avail him food and water, but complained about mosquitoes feasting on him at night when understanding from duty staff can be at its lowest ebb," he indicated.