Gambia's Vice-President Muhammad Jallow has Friday reiterated the importance of capital markets, described them as "organized systems" that would allow the "free flow of capital, raised through debt or equity."
The country's second-in-command made this remark today during the launching of the Gambia capital markets which was held at the Bijilo-based Sir Dawda Kairaba Jawara Conference Center, located some 10 km away of Banjul.
Today's launching comes on the heels of the enactment in 2021 of the Capital Markets and Securities Act as well as the decision taken by government to task Central Bank with the responsibility "to establish and nurture the Securities and Exchange Commission (SEC), and the Gambian Stock Exchange.
"This would no doubt assist in the development of deep and liquid government bond markets, where mobilisation of local resources for innovative financing could be made," Jallow explained.
Breaking down the rationale behind the launching of Gambia capital markets, VP Jallow cited a study released in December 2019 by World Bank and which outlined "a strong correlation between capital markets and economic growth."
According to the said study "the increased attention given to capital markets as a mechanism that can potentially help channel private sector funding to key strategic sectors of the economy. Consequently, the sectors that are expected to benefit from the capital market include business corporations, infrastructure investments, housing, small and medium enterprises, and climate change resilience projects."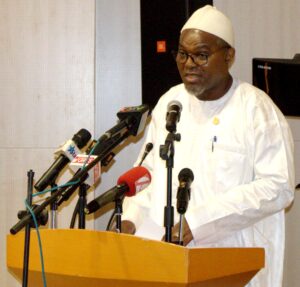 Gov't Commits To 'Play Its Crucial Role'
Speaking earlier, the Minister of Finance and Economic Affairs, Seedy Keita, expressed similar sentiments and assured "potential investors," and major stakeholders of his "ministry's commitment, willingness, capacity and determination to play its crucial role of maintaining overall confidence in the economy of The Gambia."
He further stated that the roll out of the Capital Markets "would be done through the development and application of a robust macroeconomic policy framework that is founded on budget discipline, sustainable public debt management, and a fair, robust and efficient tax system."
Governor Buah Saidy reminded the gathering of the need for government to kick-start the necessary reforms geared towards "upgrading and modernizing the payments and financial structure."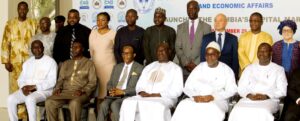 Once completed, he said, it is envisaged that this will not only provide a more efficient, secure, and reliable platform for financial transactions, but improve financial inclusion.
À l'en core, the main objective "is to foster an environment that encourages economic diversification, instill a savings culture, and job creation through efficient financial intermediation."
He then added: "we are on a mission. A mission to incentivize investments for The Gambia, a mission to showcase The Gambia, a mission to say to the world, 'The Gambia is open and ready for investment'."