Police in the Gambia have on Sunday launched a massive manhunt after an alleged gun owner is most likely making efforts to evade arrest.
"The primary suspect, Ibrahima Ndimbalan, who was found in illegal possession of a loaded pistol, is currently evading arrest," the Police said in a laconic statement seen by JollofNews.
The tourism security unit mounted Friday a checkpoint to search vehicles in the tourism development area. They subsequently uncovered a 'loaded pistol" which "was loaded with six 9mm live rounds when it was discovered in a vehicle. During the search, one of the two people in the vehicle managed to escape the scene, leaving the driver behind."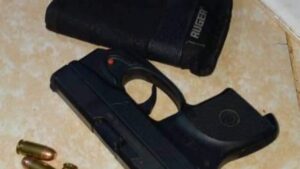 As the driver is currently helping Police investigators, law enforcement officers are scaling up efforts to arrest the alleged proprietor of the "Ruger" type pistol.
"We urge the public to exercise vigilance and promptly report any sightings of the individual shown in the photo below to the nearest police station," the Police said.