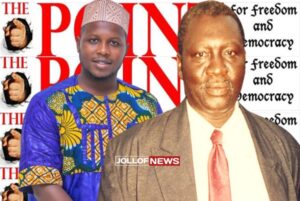 JollofNews cannot and would not be intimidated by any amount of pressure from any quarters to shirk it's responsibility to the humankind.
The undue pressure from The Point newspaper for us to discontinue our coverage of The Point Vs Philip Kotey has been mounting in the past few weeks but quite disappointingly and dishearteningly, the pressure cooker has now been turned up on us by the Gambia Press Union (GPU) itself.
When GPU called us on Tuesday for a meeting at the GPU office on our coverage of The Point Vs Philip Kotey, we did not find it difficult to understand that the union has already taken a stand on the matter.
Consequently, we decided there's no need for us to waste our precious time on such a conflicted union.
JollofNews will be deliberately absent from the Media Council meeting today, regarding the complaint lodged with council by The Point about our coverage.
It bleeds our hearts to always wake up to the realization that some of the founders of the GPU are now turning in their graves after the union that they fought so hard to establish has been reduced to a tool of oppression, an institution interference, lethargy and bullying.
The GPU should be utterly embarrassed of itself for being a passive bystander when The Point newspaper staff were overworked and not properly paid for many months.
If the overarching aim of any union is to protect and promote the welfare of its members, what then prevented GPU from engaging Pap Saine and the management of The Point newspaper to look after their staff.
The lifeblood of any media outlet is the reporters and editors.
They toil for stories and generate revenue through ads and sales.
In essence, they are the movers and shakers of things!
So, for GPU to pretend that The Point newspaper staff did not need timely payment of their salaries for many months is disheartening and a betrayal of the trust and confidence of the staff of The Point newspaper.
You failed them!
Imagine a company the majority of whose staff are countryboys (sorry for the characterization) and they struggled with expensive rents in the coast and other financial commitments!
What prevented the GPU from engaging Pap Saine and the management of The Point to see how they can better the welfare of The Point staff?
So instead of looking after the interests of your members, you are now busy trying to protect their bosses over them.
Coming back to the issue at hand, JollofNews as we said earlier, will not be cowed by anybody in the discharge of our responsibilities.
We will continue to provide coverage for The Point Vs Philip Kotey as long as the case proceeds.
Why is Pap Saine and The Point newspaper so concerned about what we report from an open court?
As for the GPU, we will come back to you in an editorial where we will talk about how you degenerated to a pathetic institution.