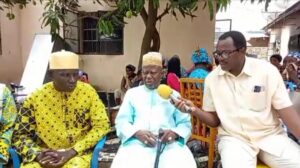 The Secretary General of the United Democratic Party (UDP) has made a 'special' appeal for humanitarian relief for Nyawuru Komma and family following a devastating fire Thursday evening.
Lawyer Ousainou Darboe went to Latrikunda Sabiji on Friday where he commiserated with one of his trusted lieutenants and his family.
The UDP leader told Nyawuru and family that when the news of the fire came in, he was profoundly worried and concerned.
"I was wondering whether life was not lost but I later learned that no-one was physically harmed," he recalled.
"The property lost can be restored by Allah. This is why I said let me come and pray so that recurrence of this kind of situation can prevented," the UDP leader pointed out.
"I'm making a special appeal in whichever way anyone can help a fellow Muslim, neighbour and a compatriot,"stated the UDP secretary general.