The National Security Adviser (NSA) has revealed that Cpl. Sana Fadera and alleged accomplices had planned to seize the State House with further plans to take Cabinet ministers and senior government functionaries hostages to forestall any intervention.
"The said plan shows the composition of the formations that were to participate, the required orcefully take over the State House and prevent any intervention," explained the national security adviser as he briefed the press on the progress of the investigation on the alleged coup.
He added: "The Gambia Naval Base in Banjul was identified to be the launching platform with accomplices from the State Guards, Fajara Barracks and Yundum Barracks and other battalions around the country.
"In addition to the State House,the plan shows other key locations to be taken over and occupied… which include the Denton Bridge, the Bond Road Banjul Highway intersection, Arch 22 and installations such as NAWEC power station at Kotu, radio stations, the Abuko earth station, the airport and also to seal off ECOMIG troops.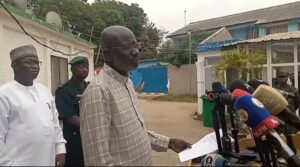 "The coup plotters also intended to use media propaganda to promote their takeover, arrest cabinet ministers and senior government officials to use them as hostages to prevent any intervention.
"They also had plans to retire all senior military officers from the rank of major and above and also restructure the Gambia Armed Forces".