A dead and decomposing whale has been found along the shores of Tanji Beach, according to reliable sources.
This marks the second dead whale found along the Gambian coastline within a month, as another was recently found on the shores of Barra.
Unfortunately, there have not been any active official investigations as per the causes for the deaths, though some environmentalists have linked this latest death to have been possibly caused by fishing trawlers.
Studies have shown that Cetaceans, such as whales and dolphins, face threats from factors like entanglement, ship strikes, and changes in ecosystem and food supply.
The Gambia Environmental Alliance (GEA), an environmental advocacy group, has posed questions on its Facebook page following the latest incident, asking: "What do we know about the cause of the death? Who is taking samples for lab analysis? Is there any marine biologist that visited the scene to evaluate the body and determine its age and gender? What is going on in our waters that we don't know? Is the whale going to be left on-site for 'land-based natural decomposition' so nutrients return to the ecosystem or is it going to be transported elsewhere?"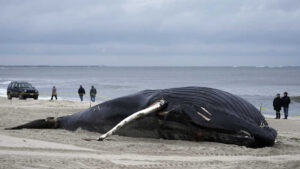 The GEA added that this is a rare occurrence and more studies need to be conducted to establish the probable cause of the death.
Researchers need to get to work and figure out what's behind the death of this whale, the Alliance added, saying: "Finding an answer about probable cause of death of this whale could answer bigger questions about our marine ecosystem."