Groundnut farmers can now look forward to the enhancement of their ailing economic health in little more than a week from today as President Barrow announced 1 December 2021, as date when they'll begin to receive cash for their peanuts.
Though the announcement was unilateral and unofficially made at events smacking of political gain-making, some farmers have already started bidding farewell to life with virtually no cash albeit temporarily.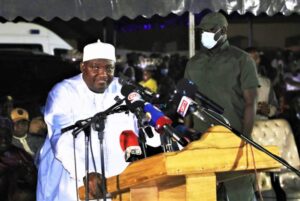 Questions, inter alia, as to government's level of preparedness, state of seccos, payment mode and how consultative was Mr. Barrow's announcement continue to be asked since the Gambian leader broke the joyous tidings to the farming community today in the North Bank Region as he moves towards the upper reaches of the country in his Meet The People Tour.