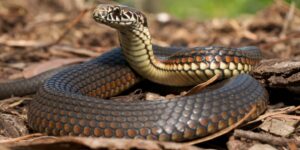 It's again that season of the year when snakes cause nightmare in parts of rural Gambia as they multiply and cause nuisance.
Almost no snake specie is currently in domestication in Gambian homes and as such, their relations with humans has always been characterised by friction.
Knowledge of snakes is very limited in many Gambian communities and snake appearance at any given place is seen as a threat to human safety.
The country's healthcare system has not also adequately catered to snakebite-related complications.
Though, snakes are also important agents in the maintenance of balance in the ecosystem, they are feared and killed in many Gambian settlements.
Last rainy season, concerns have been raised in parts of the Central River Region over the 'alarming' rate of snake multiplication in those areas.
Farmers have raised concern as snakes multiplied, making unsolicited appearances in farms and homes.
As this year's cropping season progresses, some farmers have made calls on authorities to see how snake populations in some parts of the country could be controlled.
"I think the best approaches to adopt for these snakes are chemical and biological," said a farm labourer Makang Conate.
Makang has worked in almost all the settlements in CRR North but according to him, snakes pose more concern to him that the scorching sun.
"I think the areas could be fumigated to protect both livestock and humans from snakebites," Jatou Conteh told JollofNews on the line from Bakadaji area in Lower Saloum.
"We cannot co-exist with snakes," another lady of the area ruled out.
"The ideal thing for snakes to do is to remain at their habitats and allow us to live in our habitats.
"Let them leave our homes and farms for us," one Kutubo Kijera told Jollofnews on a farm in Sare Gibi.