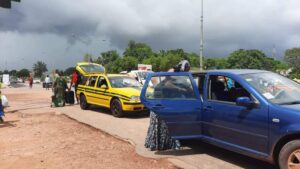 Gains on the transport "war turf" are reversing in favour of the Gambia government as some commercial drivers in several parts of the Greater Banjul Area ( GBA) begun to ignore the call for a sustained general strike.
The government and the General Transport Union (GTU) have been stubbornly maintaining their individual positions on the countrywide strike.
The transport union has been making claims that government has shut the door of negotiation on it as it refused to discuss with the unionists.
Meanwhile, transport minister Ebrima Sillah told Coffee Time With Peter Gomez Tuesday that the GTU negotiators unceremoniously walked out of a previous discussion, casting a bleak prospect for a negotiated settlement.
However, the pendulum appears to be swinging in government's favour in some fronts as commercial vehicular traffic in several parts of GBA gradually returns..