The National People's Party (NPP) appears to be comfortable with its potential candidate for the Banjul mayoral election but the leader of Gambia's main opposition UDP Hon. Ousainou Darboe suggested that Ebou Faye is not the man for Banjul's top job.
The NPP is currently dealing with scramble over local councils as more than 40 applicants have so far shown no indication of setting aside their ambitions to run for the chairs of the various local councils on NPP ticket.
Meanwhile in Banjul, the party has been taxiing on a smooth road as compared to other administrative areas, where the roads have already become bumpy for the NPP vis-a-vis the impending battles for the regional governments.
So far, nobody from the NPP ranks in Banjul has shown any enthusiasm in giving Ebou Faye any worries as far as his ambition to run for BCC on NPP's ticket was concerned.
But Lawyer Darboe earlier this month told a victory rally in the coastal town of Gunjur that Ebou Faye has not given an account of himself as the manager of the country's main sports stadium.
To Darboe, if Ebou Faye could not turn the fortunes of the Independence Stadium around, entrusting BCC to him could be a colossal mistake.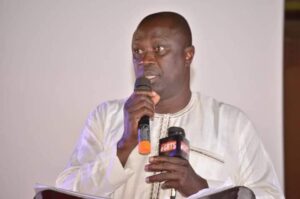 "What I also heard about Banjul…if that's the case. Somebody, who cannot manage the Independence Stadium. How can you entrust the city of Banjul to such a person if he cannot do that," Darboe asked after commenting on the news Bakary Badjie has been tapped to challenge Talib Ahmed Bensouda at the polls.