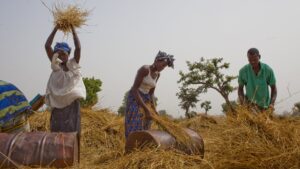 Thousands of farmers in the country have been living in perpetual fear of food crisis of emergency proportion as fertilizer price rocketed out of the reach of many.
Overcropping, lack of proper soil management and suitable farming implements continue to affect yields.
Farmers this year has another challenge to confront as government told them they would be buying a bag of fertilizer at D2000.
This represents an increase of D1250; a leap from the previous farming season price of D1000.
"This is the worst decision government could've ever taken," farmer in Bakadaji Saikou Conta told JollofNews.
"When Barrow came to Basse to look for our votes, he promised that he would make life easier for us(farmers). So, is this his way of making life better for farmers?," stated Salif Bah.
"We'd expected the government to significantly reduce the fertilizer price and not to significantly increase it. This action will only increase our vulnerability to food poverty and other nutritional challenges because we need fertilizer to improve yields," Isatou Kijera told our reporter.
"Food crisis of emergency proportion is looming on the horizon,"presaged Fatou Ceesay of Panchang.
"Our best time to prepare against hunger is the rainy season. So, if government deprive us of that precious moment by inflating fertilizer price beyond our reach, then a weapon is being handed over to hunger to maraud and devastate our households. It's a scary situation," farmer in Soma Momodou Aplha Sowe told JollofNews.
"Let's consider this farming season failed because government's fertilizer policy renders it so," Haji Damba told JollofNews.
"And, we all know what a failed farming season means for thousands of rural households," he ominiously indicated.