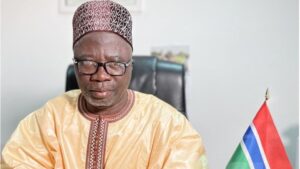 The Barrow government is currently bogged in a complicated balancing act of fulfilling the campaign promise of improving salaries of civil servants and making a difficult fiscal decision as, according to reports, government has no such funds to implement the project.
As recently as last week, the Gambia government spokesperson also Presidential Adviser on Diaspora Matters, Ebrima G. Sankareh, said he had no idea whether civil servants would go home end July with enhanced pay packages.
But the Minister of Information, Lamin Queen Jammeh, was quoted as saying everything held constant, the new pay-scale will be introduced this month.
Dependable sources have, however, informed Jollofnews that the new pay-scale will not in fact come into effect this month because government has no budgetary allocation for it.
"I think civil servants, growing fat on the expectation of this touted salary increase should be prepared to lose some weight this month because the new pay-scale will not be implemented because there is no money for it," a knowledgeable source told JollofNews.
Meanwhile, in another sign of government's incapacity to effect the new changes on salaries this month, civil servants have yet to be notified of how much they would find in their banks when they go there for July salaries.
"Government should come with a clear position on this proposed new salary scheme because we are now confused," a civil servant, who requested for anonymity, told JollofNews.