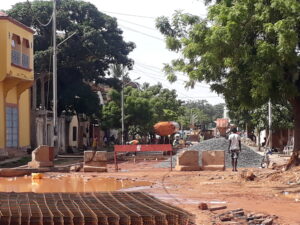 As debate over the disastrous failure of the costly Banjul Roads Project sizzles, Gai Construction has been given another lucrative government contract.
The construction outfit was recently awarded a contract of D28m to construct a fruit processing factory in the country.
The Gambia Tourism and Hospitality Institute (GTHI) is the project's beneficiary and would be implemented to train Gambian youths in fruit processing.
Meanwhile, Gai Construction also won a multi-million Dalasi contract for the construction of dykes in rice fields this year.
The Gambia Ports Authority (GPA) has also been reportedly paying annual rent of D5m to Hadim Gai for a land allocated to him by the government to build a factory there.