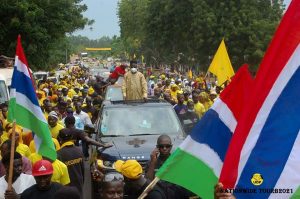 (JollofNews) – Thousands of supporters of the United Democratic Party supporters (UDP) Thursday gave a rousing welcome to the leader of the main opposition United Democratic Party, Lawyer Ousainou Darboe, after his return from a nation-wide tour.
The tour is being used by the party to remobilise, reenergise and to sell the party's 5-point agenda to its members ahead of the 2021 general election.
Mr Darboe's supporters lined up the streets of West Coast Region and the Greater Banjul Area to cheer and wave at his convoy as it made its way to Westfield junction, Serrekunda.
On arrival at the Westfield Junction, Mr Darboe was greeted by a large crowd of jubilant supporters who escorted his convoy to his residence at Pipeline.
Addressing thousands of jubilant supporters at his Pipeline residence ahead of December 4th presidential elections, Darboe said the young people have now decided that they will control the destiny of the country and have indicated that the UDP is the party that should be entrusted to run the affairs of the Gambia.
"What I saw today is history in the Gambia and it has never happened, and I believe it is only the United Democratic Party that can pulled a crowd of this size," he said.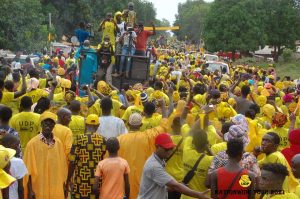 "When I left here on the 4th of October on this tour, I tasked myself with the responsibility of explaining to the Gambian people about UDP's 5-Point Agenda but when we got to Berending, we discovered that the people of Nuimi are very much ofay with the agenda and they know it is 5-Point Agenda that will carry the Gambia forward.
"We don't want to wait for nomination day to start something for the Gambian youths and women about what should be done for them when we get into office in 2022. We are going to start working on the programmes and strategies to ensure that youth employment and empowerment is a reality in this country.
He added: "We must all determined the destiny of our country on the 4th of December, and we must do so responsibly. We don't have to be driven by sentiments but rather we should be driven by our sense of patriotism to save the Gambia from catastrophe because our nation is failing.
"We don't want in the next 5-years for this country to be ruled or managed by men who have no clue of what governance is all about or what proper economic management is all about," he posited.
Reacting to rumours making rounds that he will not be nominated, Mr Darboe revealed that on the 1st of November he is going to be nominated and that his party is doing all the preparatory acts for his nomination. He however announced that the so-called reason why his distractors believe that he Ousainou Darboe will not be nominated no longer holds.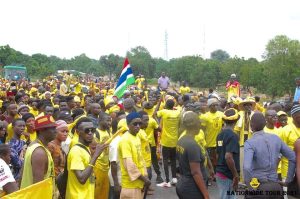 "On the 16th of October I have got my income tax clearance and in the next couple of days am going to prepare the declaration of my assets which I will submit to the IEC before the 4th of November so that those people who want to take objections or want to go to court to challenge my nomination are free to do so. They will find Ousainou Darboe on a terrain that he is very familiar with and more familiar with than any of them and we will teach them what happen to busybodies," he said.
"In the next two weeks or so we will hit another campaign trail and this time around we will go along with our weapons of mass destructions. We will make sure that there will be no messages of NPP in this country and we will equally make sure that NPP is humiliated in this country and does not compete with UDP in anyway whether in terms of ideas, policies or in terms of pulling crowds," he added.
"I am a very modest and humble person but who can compare me with Adama Barrow. At least even if I didn't go to university, I have gone to the sixth form," he said to the laughter of his supporters.
He warned that Gambians you should not make a costly mistake of electing that man-referring to president Barrow who can't even pronounce words properly.
"You want to have a dedicated, educated, and knowledgeable leadership that is not cowed by its ministers because they are intellectually superior to him. None of my ministers can over own me with their degrees or professional qualifications because we are of the same match or I might even better that them," he declared.