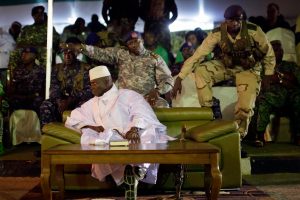 The Gambia government has hired a team of legal experts to guide it as to the nature and character of it's proposed hybrid court for alleged Jammeh atrocities as well as those of his confederates in crime, this medium was informed.
According to the Gambia government spokesperson, Ebrima G. Sankareh, government, conscious of the constitutional and jurisprudential limitations for the successful prosecution of some of the allegations against Jammeh and his allies in atrocious crimes, the government decided to go the extra mile to hire the services of the legal experts.
"Previously, our jurisprudence did not cater for things like crime against humanity, enforced disappearance and torture. The Gambian Constitution did not cover that.
"Aware of that limitation, government decided to hire the services of these legal experts," he added.
The government spokesperson said the team would set the pace and tone with which government is going to proceed about the new task of prosecuting Jammeh and his cabal.
"This is to establish fairness to both the victims and the alleged perpetrators," explained the government mouthpiece.
Mr. Sankareh pointed out that government also saw the need to hire the legal experts to give the proposed hybrid court those elements of inclusivity, diversity and international dimension.
"The government wanted to show there was inclusivity…that nobody is left behind: Seyfolu, Alkalolu, governors, women Kafolu, rape victims, murder victims and people whose parents disappeared were all consulted. There was a broad and widespread consultation," he explained.
He added:"And, considering that this is something new; a Gambian novelty…this is why the Gambia government decided to hire the expertise of consultants so that they could help map out a way that would show that not only are we serious in prosecuting the cases but serious in demonstrating to the whole world that we are a very fair and transparent government."
The government spokesperson told this reporter that the legal experts are drawn from both Gambian and foreign resources.
"People who have spent years and decades in researching and writing about the law and practicing law.
"And,they are aware of the areas of law or prosecutorial defense so that we'll be accommodating to all category of people whether victim or accused,"said Sankareh.
He drew the line under the need for a comprehensive work as, in his description, Jammeh's rule was wide and far-reaching.
" Yahya Jammeh's 22-year rule has touched every part of the world. So, let's make sure we do a very comprehensive work that when done and dusted, at least everybody will know that the government was very, very transparent and very open and democratic," said the government spokesman.
"We are talking about 44 West African immigrants; majority of them Ghanaians. You are talking about people who come to this country…they claimed they were tortured. Some people disappeared; Gambian nationals and non-Gambians. So, obviously and then like I said torture, crime against humanity and enforced disappearance were and are still not part of our Gambian Constitution.
"So to create all those avenues and areas, we need the requisite expertise that would map out the roadmap for that kind of situation," he concluded.