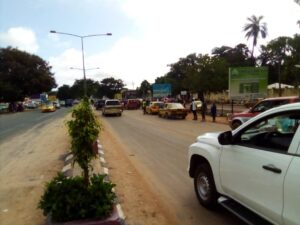 As the country's transport sector faced major disruptions, the Gambia Transport Service Company (GTSC) unleashed its fleet of buses and minibuses to contain the devastating impacts of Monday's sit-down strike.
"I am on my fifth trip to Bakau," GTSC driver Mbackeh Suwareh told JollofNews as he was ready to set off towards Bakau "Backway."
The act of civil disobedience initiated by Gambia Transport Union has left a good number of commuters stranded. The State-owned transport company went to the extra mile to minimizing the collateral damages of the strike.
When asked whether he has experienced any incident, he responded in the negative.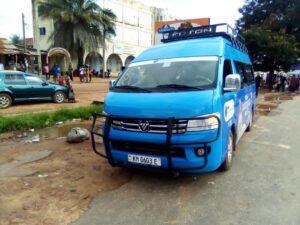 At Westfield garage, security personnel deployed by the Police were crossing their fingers in front of an empty place.
Braving the heatwave, stranded commuters who having been patiently waiting for a vehicle, ended up getting satisfaction as some drivers broke ranks.
Similar scenario prevailed at Brikama garage, Serrekunda. Commuters continue to endure hardships… And when a car is spotted, it is immediately filled.
"These drivers are only pushing for their selfish interests," Modou Jagne voiced out as he was about to board a "Geleh Geleh" at Ebo town garage in Serrekunda.
The drivers did not hesitate to double the tariffs, forcing Jagne to pay D20 instead of the required amount.
Far more disturbing, taxi drivers raised the bar higher: D200 for a one-way trip to Ebo town.
"These people (drivers) are not helping us but themselves," a 55-year old petty trader told JollofNews while she struggles to contain her frustrations.
Aminata Manneh blamed the drivers for only going after their "selfish interests," adding that commuters are the big losers of the sit-down strike.