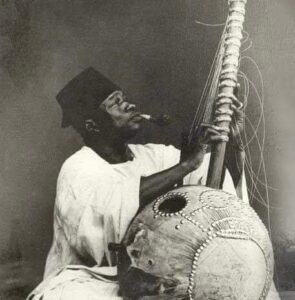 Lalo Kebba Drammeh has thrilled and wowed royals, wealthy, scholars as well as people seen in those days as ordinary.
When The Gambia chose Lalo Keba to represent the country in the 1979 Manding Conference in London alongside other koraists, the Queen was so excited with his spectacular and delightful performance that she requested him to stay for more.
This was even after others have long returned home.
But how did it came to all this?
Well, the late Alhaji Sarjo Barrow (Moo Kendoo) and Alhaji Alieu Jobe went to find out from legend Jali Alhagie Mbye in a Momodou Sabally-inspired project.
JollofNews made a feeble attempt to give you a rendition of what they've learnt from the great griot ever to have walked this land:
Lalo Kebba was in The Gambia on a visit with his father and got opportune to witness the performance of Jali Wandifeng Jobarteh at the meeting of rulers at Baddibbu Illiasa (Mansa Bengoo).
He was so fascinated by Wandifeng's performance that he enquired about him.
He was told Wandifeng was a great griot in this country and lived in Niamina Dankunku.
This response has set him off on the road to Dankunku to meet Wandifeng. He bought cola nuts and journeyed to Dankunku.
These were days when cars were few and far in between on the country's roads.
Wandifeng used to perform for royals, the well-to-do, famous and what have you.
He used to tour both the northern and southern flanks of the River Gambia, entertaining the movers and shakers of things in those days.
On the North Bank side, his first port of call was Kani Kunda where he was the guest of scholar and an upright man Suku Jobe.
From Kani Kunda, he would head to Kebba Lang Tombong Camara in Sanjal Sara Kunda.
Kebba Lang has a nephew called Lang Njie.
One day, Lang Njie and his peers were sitting under a huge tree and saw sheep coming.
When the flock reached him, he seized one of them, wrestled it down and slaughtered it.
Lang Njie told his friends that he was going to fete griots lodged in his uncle Kebba Lang's home.
This caused an uproar in Sara Kunda and when the information reached Kebba Lang, out of love for his nephew (because those days, people adored their nephews), he paid for the sheep.
This was the basis for the track-Kabaa Jung Jungoo Samba Sara Kunda Lang Njie Suruwaa- later sung by Lalo Keba and many other griots.
From Kebba Lang Tombong, he would proceed to Sutay Nyara in Saba Kataba.
After performances in Kataba, the music tour continued to Farafenni where Wandifeng and his entourage were guests of respected and successful senior citizen Ba-Landing Jagne.
From Baa Landing, he would go Tamba Jammeh in Illiasa.
Tamba abhorred three things. One is laziness. His uncompromising stance on it made people believe he was omniscient and omnipresent.
Tamba would trace every voice in every part of the village late night by walking stealthily to those involved to tell them that anyone with task in hand the next day would not be bantering late at night.
He also abhorred stealing. Theft, he'd always said, was the outcome of laziness.
And, the third thing he strongly disliked was violence. He said violence can never fix but only break.
From Tamba, Wandifeng would go to Sulayman Junkung Sawo in Salikenni; father of Lamin Saho.
Salikenni was big, prosperous and blessed. In those days when griots arrived in the community, cola nuts were distributed to every household; an indication that the griots were guests of the entire community. This inspired the song-Nteri Jatoo-played on Kora by Wandifeng Jobarteh and composed by Luu Jadama. Luu was the daughter of Masanneh Nani Katamina. She was just freestyling with the song Android Wandifeng picked it up. But it was Lalo who took it to Radio Gambia though lot of griots later sang it.
There was no radio when Wandifeng was alive.
From Salikenni, Wandifeng went to traders in Conteh Kunda, lodging with Sulayman Conteh.
He would end his tour on the southern flank of the River Gambia in Kinteh Kunda, lodging with the erudite and famous Janko Kinteh.
At the other side of the river, he would start the tour with a visit to Masanneh Nani Jadama in Katamina and then to Kebba Suma Koto Dampha in Pinyai.
From Niamina, the party's next stop was in Jarra where they were received by scholar Afang Kutubo Sankaa Darboe in Pakaliba.
They would then move to Bamba Saidykhan in Jarra Sukuta. His next host would be another plain-spoken man, Bantanding Barrow of Jarra Barrow Kunda.
From Barrow Kunda, he visited Kumbu Sora in Sutukung, Nfally Darboe in Jarra Bureng, Ba-Nfamara Dampha in Jappineh, Baa Lang Kinteh in Pakalinding, Foday Soma in Soma, ending the Jarra tour.
In Kiang, he used to begin with Karamo Sanneh in Kaif and then to Landing Nyama Sanyang in Betteling, a grandson of Mansa Koto who rebelled against the white people in the Battle of Sankandi.
The tour would then reach Foni Kankuntu with Sanyang Kunda as host and then to Bondali where Wandifeng and his tour party lodged in Colley Kunda.
Bakary Bah was their host in Bajagarr. The song Wandifeng dedicated to Bakary Bah is currently the jingle Mandinka news on Radio Gambia.
Lalo and other apprentices followed Wandifeng on these tours and were taking care of gifts such as goats. They were responsible for transporting them to Dankunku.
Wandifeng later died in Kani Kunda.