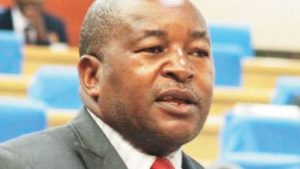 Malawi's Lands and Urban Development Minister Kezzie Msukwa was arrested on Thursday on abuse-of-office allegations involving some land shady deals with a businessman.
The Anti-Corruption Bureau (ACB) said in a statement that Msukwa is alleged to have taken bribes from businessman Zuneth Sattar and his agent Ashok Kumar Sreedharan to influence the award of land to companies belonging to Sattar.
Msukwa was arrested together with Ashok Kumar Sreedharan aka Ashok Nair in relation to corruption and bribery investigation by the bureau.
According to the ACB, it is alleged that between July and August 2021 Msukwa facilitated the sale of land under his jurisdiction as Minister of Lands and Urban Development in Area 46 to Sattar.
For facilitating the transaction, the minister is alleged to have received a K4 million (about US$4,850 ) bribe and a Mercedes Benz C Class vehicle for one of his associates Moses Kafunda.
In addition, Msukwa allegedly received a K15 million bribe to buy land in Chipoka, Salima.