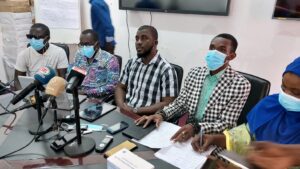 After weeks of strike action over payment of allowances, the determination of the aggrieved public health staff to protest have apparently cracked under the severity of the health minister's warning earlier this week.
Dr. Amadou Lamin Samateh has threateningly told the agitating staff to immediately go back to work or face the music.
He uncompromisingly suggested to the striking staff they had to go back to duty with immediacy or risk counting themselves among the thousands of jobless Gambians.
The health minister wanted all the striking staff immediately back at their duty stations as negotiations over unpaid on-call, special skills and risk allowances were underway.
And, it would appear the prospect of job loss and accompanying penalties were not prizes striking public health officers thought were worth paying.
They convened an emergency meeting at the Gambia College on Thursday where the majority reportedly decided to go back to work and allow the executive pursue the allowances despite the possibility they will not be paid anytime soon due to the bureaucracy involved. read more
"It has to go to the Cabinet and then the National Assembly because it has to be integrated in the salary scheme," sources told JollofNews.