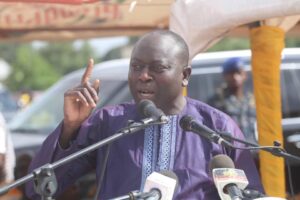 The first wife of the minister of works suggested she'd succeeded in tracing the thread that allegedly generated a strong bond between her husband and his alleged fiancée.
Mrs. Mariam Barrow-Sillah was shocked and flabbergasted that the little girl that visited their house years back has now grown into a full-shaped maiden, occupying her husband's mind for years.
According to Mrs. Barrow-Sillah, her husband's proposed wife visited their house with a friend years back.
Meanwhile, she was trying to process the claim that Hon. Sillah fell for the girl since that meeting.
"The girl claimed he was the one financing her studies and they were emotionally-attached for years," the minister's wife claimed.
She expressed shock that everything about Sillah's alleged relationship with the girl was hushed for years.
"It was very embarrassing. Surprising too because I thought his life was only divided between work and family," she rued in a phone call intercept.