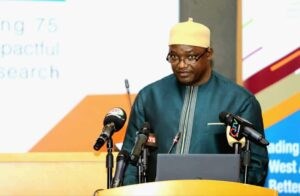 President Adama Barrow has Tuesday commended the Medical Research Council (MRC) as being instrumental in responding to public health emergencies the country has been confronted with.
"The development of this institution to become an internationally recognised Centre of Excellence for Research and Training in West Africa, and its contribution to improving health across the World over these many years deserve celebration," the Gambian leader said in statement delivered at commemoration marking the 75th anniversary of MRC, a succursale of the renowned l London School Hygiène and Tropical.
The leading research institution has been established in The Gambia for over seven decades, and has shined light on some tropical diseases ravaging the continent since colonial times.
President Barrow described the relationship between the tiny West African nation anf MRC as "unique", emphasizing that MRC has become "a popular and affectionate household name."
To many Gambians, MRC prevented a good number of life-threatening diseases from spreading across the country. As the planet is battling emerging viruses, many people hope that MRC will continue to live up to expectations.
"The impact of your research in collaboration with the Gambia Ministry of Health can be appreciated when our National Malaria Control Program reported a 40% reduction in Malaria incidence 10 years ago," he said while lauding the research center for "the successful clinical trials and incorporation of vaccines against liver cancer and invasive bacterial diseases."
Barrow seized the opportunity to express proudness over the announcement made by the Ministry of Health and WHO, declaring the country as Trachoma blinding-free – trailing behind Ghana.
"Your presence and hugely important work are a pride to our nation, and we are happy to join you in this celebration of 75 years of impactful health research done in the Gambia," he said.