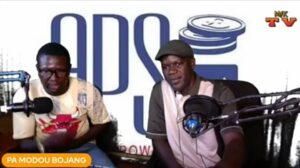 Tonyakesso anchor Muhammed Darboe has been struggling to recollect whether Baba Jah was invited to his platform as a comedian, member of the NPP or Diaspora community.
One thing though, he said, he was quite certain about is that nobody has bankrolled him to use his platform to disparage Lawyer Ousainou Darboe.
"If I've not forgotten, the flyer bore comedian. I don't want to lie here because this is a platform where you can be taken back on your words," he told Pa Modou Bojang of Home Digital in a sizzling one-on-one.
"But I only invited him (Baba Jah) to my platform so that we can be hilarious and laugh together," Darboe added.
According to Muhammed Darboe of the Alaji Bora fame, he'd made futile efforts to restrain Baba Jah whenever he wanted to veer off to the UDP.
"I tried to side-step him whenever he wanted to ram into the UDP but it came to a point, I got overwhelmed and I entertained him. I cannot bear that responsibility," he explained.
Quizzed by Membekering host whether he would be amused if Baba Jah used the Tonyakesso as a platform to say his (Darboe's) father was like this or that while living in Sierra Leone like what Baba Jah said about Lawyer Darboe, Darboe replied: "That's the point here. That's the crux of the matter.
"Whether my father, somebody else's or Pa Modou's, its uncivil," he underlined.
"But you entertained him," interjected the host.
"Yes, I take responsibility for that. Its a fait accompli and regrettable," he admitted.
Darboe made an undertaking to never allow his platform used as launch pad to cast aspersions on people's character and soil their reputation.
"I want to promise, henceforth, that my platform will not be used to disparage anyone: Ba Ousainou, Baba Jah, Pa Modou or even a child," he stressed.
When put to him that he was paid by Alhaji Abubakary Jawara to try to pull Darboe down because Baba Jah's onslaught on Darboe happened during highly-charged political times, Muhammed Darboe said:" I swear onto whom I stand, if at all I had an encounter with Abubakary Jawara before the election, let me not transition from my youth. If at all I sat with Abubakary Jawara or even Baba Jah or anyone and agreed to be given money to bring people down, then let my dreams not be fulfilled by Allah in whatever I aspire for.
"Yes! Even if I join a car today, let it somersault and I die. Between me and God, I never discussed even a single word with Abubakary Jawara about Ousainou. Let me be deprived of the blessings of my mom if I did," he emphasised.