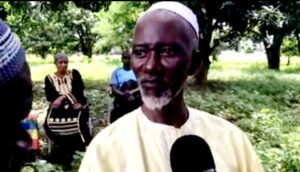 Some natives of the West Coast Region village of Kassa Kunda have recently filed a petition at the regional governor's office, agitating for the dismissal of the former village head Cherno Siranding Sabally because he was 'totally blind' among other reasons.
Mr. Sabally, who has been coping with visual impairment for several years now, was last week asked to immediately surrender all his official paraphernalia to the governor of West Coast Region.
This request followed his dismissal by the ministry of regional government on 16 August 2022, as Alkalo of Kassa Kunda.
"You are therefore requested to surrender your stamp and all other official documents to the Chief of Kombo Central immediately," a letter from the office of West Coast Region's governor stated.
Meanwhile, the petition sent to the regional governor's office for the dismissal of the former village head states: "We the undersigned Sabally Kunda family of Kassa Kunda hereby writes this petition letter to bitterly complain about the physical disability "blindness" of Cherno Siranding Sabally (Alkalo of Kassa Kunda) and the complex negative impact of his blindness on the lives and properties of not only the Sabally Family but also on other residents and citizens of the village.
"We have been in this difficulty for nearly a decade now and we feel that it's the correct time to report a formal complaint letter against him. We are doing this for the betterment of the whole community and to avoid further complications of administrative inefficiency. Evidently, the present Alkalo is totally blind 100% visual disability on both eyes."
The petitioners also alleged the former visually-challenged Alkalo was into shady land deals.