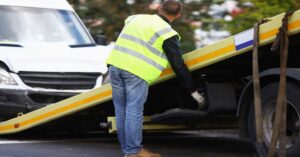 Some of those who came into contact with him on the wrong side of the road traffic rules said he looks intimidating, uncompromising and European but the police said the tattooed man among those towing vehicles parked without authorisation is in fact a Gambian. Read more
The man is also a philanthropist and a friend of the police, JollofNews was told.
"Alex is a Gambian. His father is a Gambian and his mother is a Jamaican," Commissioner of Mobile Traffic Unit, Lamin King Colley, told JollofNews.
When asked how Alex found himself in the road traffic management, Commissioner Colley said:" He bought us a vehicle. The red barriers and cones you are seeing on the highway were donated by him.
"So, he realised that congestion is a problem and therefore entered into a partnership with us to decongest the roads."
"We have a contract with 5K Services to decongest the roads. He (Alex) currently employs five people."