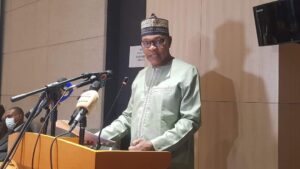 A two-day symbolic signature of the Code of Conduct for National Assembly candidates ended Wednesday with a renewed commitment to ensuring a peaceful April 9 contest.
"80% of the candidates have signed the Code of Conduct," Mohamed Ibn Chambas said during an interaction with participants, which was held at Sir Dawda Kairaba Jawara International Conference Centre, Kololi, some 10 km away from Banjul.
Over 200 candidates are taking part in the April 9 legislative elections. The increased polarisation of the political space has prompted the International IDEA to partner with government, the Independent Electoral Commission (IEC), civil society organisations, and the UK government to engage parliamentary aspirants to endorse the Code of Conduct for peaceful elections.
A good number of candidates vowed to commit themselves "to international standards for democratic elections and taking all necessary and appropriate measures to consolidate our democracy and to preserve The Gambia's well-deserved reputation as a haven of peace, stability and constitutionalism on the African continent."
Dr. Chambas expressed hope that more candidates will put their signature to what many observers have described as a "valuable document".
Similar calls were made by the Supreme Islamic Council President and the Chairman of the Christian Council. They both added their voices to chorus, urging candidates to stick to the tenets of the country's fundamental law.
As the tiny West African nation is bracing up for April 9 parliamentary elections, hopes remain intact about the ability of the various candidates to comply with law.