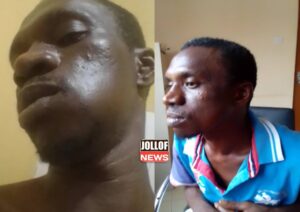 The Publisher and Managing Editor of the online news site The Trumpet, Fabakary Ceesay, has narrowly escaped mob justice attack after robbers succeeded in turning the table on him.
In an exvlusive interview, Fabakary Ceesay confided to Jollofnews that everything started on September 13, 2022 , at around 21:00, while he was driving on Sayerr Jobe Avenue, Serrekunda.
"My car got stuck in a traffic jam," he told Jollofnews. "There were two guys who came close to me and asked for a ride. I declined to offer them a ride."
As he was busy talking, one of them put his hand inside the car, trying to steal the bag that was on the front seat.
A situation, he said, escalated quickly as the guy who was asking for a ride took things to another level.
"He grabbed my neck and cut off my silver chain," he added. "I immediately pulled over from my car to confront them."
Ceesay went on to say that a scuffle and push and pull ensued. "When I realized that they were about to overcome me, I decided to go back to my vehicle. That was the time they hit me on the head with an iron object."
Little did he know that the robbers were going to turn the table on him as they started shouting "Satcheh! Satchel!" (Thief! Thief!).
A mob joined the attack, and the sad turn of events got exacerbated.
"I was beaten seriously. The mob was beating me like I was the thief," he deplored. He then added that his aggressors were playing the victim card when he was the victim.
Fortunately, he went on, the Police Intervention Unit (PIU), came on time. "I was rescued from the mob justice. I managed to hold on to one person," he said.
According to him, they were subsequently taken to Police Station for questioning.
"After a proper check, the Police realized that I was the victim."
Ceesay was left with serious pain, injury, harms, and losses. His medical bills are exponentially going up…
The case will be heard in a near future at the Kanifing magistrates' court.