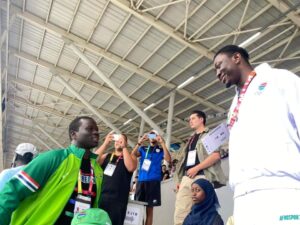 The Minister of Sports, Bakary Badjie, was away from office since July and has been making hundreds of Great British Pounds despite his long absence from work.
There was a barrage of criticism directed towards the sports minister for ostensibly accompanying the Gambian athletes to the recently-concluded Commonwealth Games in Birmingham and the Islamic Games in Turkey. Tongues were left wagging more when it became apparent that Mr. Badjie was earning 300 Pound Sterlings per day during his 14-day absence from office.
Other high-profile absentees from work were the deputy permanent secretary at the sports ministry and the executive director of the National Sports Council (NSC).
DPS Musa Mbye and NSC boss Marcel Kevin Mendy were each scooping 200 Pounds per day for the 14 days that they left their duty stations.
Meanwhile, for accompanying the minister as Special Guest, the minister's wife also raked £2800 for the fortnight that she was away with her husband.