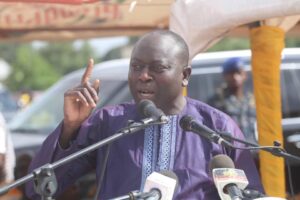 The Gambia's minister of transport has warned against obstruction of vehicles whose owners decided to defy the nationwide strike by the General Transport Union (GTU).
Transport minister Ebrima Sillah said the Gambia government has taken the "necessary steps" to ensure people commute in peace and safety.
On Monday, there was some security presence at the Westfield area, though it was not clear to Jollofnews what exactly they were doing there.
Minister Sillah this morning told Coffee Time With Peter Gomez that government will not sit idly by when people decide to obstruct the smooth flow of vehicular transport.
"Government has taken all the necessary steps to ensure people travel safely and in peace," he ominiously stated.
The minister said he read an article in an online platform which suggests that some union members may be involved in obstructing vehicles currently ferrying armies of stranded commuters as the strike continues.