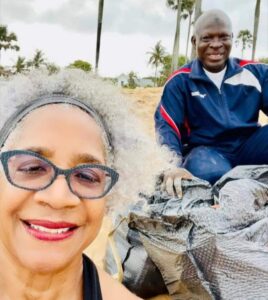 The US ambassador to Banjul on Monday descended down the Atlantic coastline where she was engaged in a beach cleanup, information from the US embassy website reported Monday afternoon.
According to the embassy website, ambassador Sheron Cromer was joined by her spouse Arnold Sobers.
A certain gentleman, Dino Muhammad, also took one hour from his time to lend a hand to the ambassador's efforts, it was reported.
Embassy sources meanwhile said ambassador Cromer was looking for possibilities of consolidating her efforts by working with volunteers to keep the country's beaches clean and healthy.
Meantime, beaches remained one of the country's tourism assets.