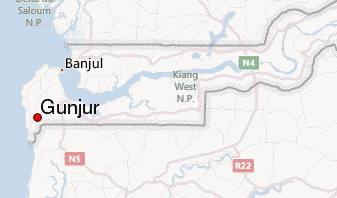 (JollofNews) – A bitter wrangling over who should be the next village head (alkalo) of Gunjur is threatening to degenerate into a full blown crisis.
Consequently, Gunjurians both at home and abroad are passionately appealing for calm with a view to sustaining communal cohesion.
According to information reaching JollofNews, a divisive power struggle is bubbling in the Gambian coastal village over who should fill the void of alkaloship created barely a fortnight after the demise of the village's latest head.
Seen by many as a reminder to the bitter alkaloship squabbles among supporters of Nyanku Darboe and Lang Girej Touray in the 1960s and Banni Darboe and Alhaji Sabach Touray in the 1970s, the current crisis is reportedly threatening to thwart the many years of struggle and efforts by citizens of the respected village towards unity and cohesion.
"The giant leaps forward made by the Gunjur Development Committee towards community cohesion and understanding was widely welcome but these successes in harmony is being scaled down by divisive power struggle for alkaloship among different factions in Gunjur," Ebrima Janneh, a Gunjurian resident in the UK, wrote on the Gunjur community website.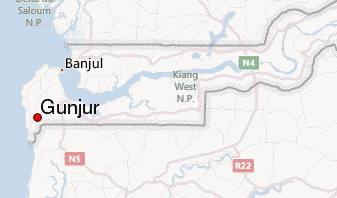 "Gunjur have massively suffered as a result of the long-standing Karanding-Karaba saga," Ms Sukai Jobe in Gunjur rues.
"We the people reserve that mighty power of enabling or disabling those greedy, self-centred and power hungry people not committed to the vulnerable people that knowingly or unknowingly give them political power to turn around and stab them in their faces and backs. United we stand, divided we fall."
Another Gunjurian, Buba Kasong Barrow wrote: "Gunjur is a closely-knit society but developments of this nature has the potential of polarising the population and concerned by this. We are closely interrelated and should be in the position to help and support each other. Let's make Gunjur a place where everyone can live in harmony".
Meanwhile according to information reaching this paper, Gunjurians especially those in the Diaspora are frantically searching for ways and means of resolving the crisis.
"Now that we are aware of this conflict, what can we do as a group to perhaps calm the situation on the ground?" queried Pa Mambuna Bojang.
"Can we, as Diaspora Dabanani, delegate an individual/group to amicably approach and express our concern to those fanning the flame?"
Be as it may, observers say the ongoing developments in Gunjur, if not checked, has a potential of thwarting the gains in unity and development achieved through many stakeholders in recent years.