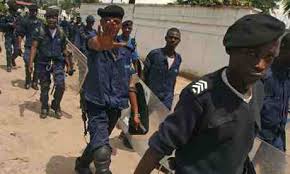 (JollofNews) – Thousands of supporters of Gambia's main opposition United Democratic Party (UDP) are being prevented from proceeding with their country-wide tour after a standoff with security forces who barricaded the highway.
The UDP on Thursday started a ten-day country-wide tour as part of its outreach activities to its grassroots members as well as present its vision and initiatives for the country.
However, after crossing to the North Bank, the UDP leader and his supporters were met by a contingent of police officers who blocked the main road and ordered the party leadership to discontinue the tour.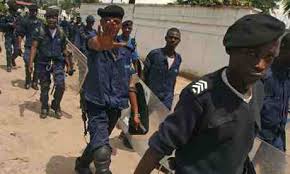 "From the onset, the tyrannical regime of the Gambia has been putting in place obstacles to deny the party from going ahead with the countrywide tour," a statement from the party's secretariat said.
"First, the police have been refusing to act on UDP's application for a permit to use public address system during the tour as required by the Public Order Act. However having waited for the police permit for weeks without granting any, the party finally decided to embark on the tour to engage its supporters without using public address system. Bearing in mind there is no constitutional requirement restricting travel and assembly within the country."
The UDP added that riot police have cordoned off their meeting venues and roads thereby preventing them from continuing with their tour.
"Now as things stand, the police have blocked all access roads making it impossible for the UDP caravan to move ahead with the tour outside Fass Njaga Choi village. The UDP caravan has also refused to give in to police harassment. Currently there is a tense standoff and the police have called for reinforcement."
The UDP has expressed fear that the situation may turn ugly.
"We hold the Gambia government particularly responsible for the safety and wellbeing of members of the UDP caravan," it said.
"We demand that the caravan be allowed to continue with its grassroots tour unhindered. Anything less is unacceptable.