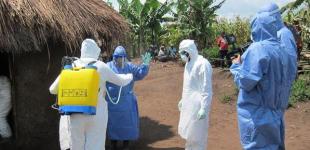 (JollofNews) – The Gambia Government has secured ten million dalasis (equivalent to $238,095) funding from the United Nation Development Programme (UNDP), meant to build six Ebola containment centres at six border points across the country, reports said on Wednesday.
The health facilities when completed will use to quarantine anyone crossing the borders having symptoms of the deadly virus for a period of 21 days. The idea is meant to enhance border surveillance, thereby preventing the disease from entering the country.
To kick start the project, the Minister of Health and Social Welfare, Omar Sey, on Tuesday presided over the laying of foundation stone of the first centre at Giboroh border post at the border with the southern Senegalese Provence of Cassamance, to be completed within three months' time.
According to Health officials, the Japanese Government has also vowed to provide medical and material support to the initiative.
Meanwhile, construction of other centres will soon follow in other points of entry of the country.
Copyright : © APA