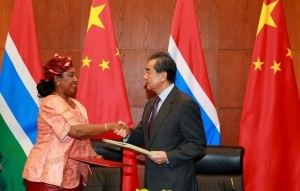 (JollofNews) – Taiwan's top security agency said on Monday China's move to set up diplomatic ties with one of the island's former African allies was meant to put pressure on President-elect Tsai Ing-wen to "fall in line" before her inauguration on May 20.
China resumed ties with the small west African state of Gambia last week, ending an unofficial diplomatic truce between China and Taiwan following landslide wins in presidential and parliamentary elections by Tsai and her pro-independence Democratic Progressive Party.
Gambia was one of only a few African countries, along with Burkina Faso, Swaziland and São Tomé and Príncipe, to recognize Taiwan, which China regards as a wayward province to be recovered by force if necessary.
Taiwan has only 22 allies in the world, including Vatican City.
China and Taiwan have for years tried to poach each other's allies, often dangling generous aid packages in front of leaders of developing nations.
On Monday, Taiwan's normally secretive National Security Bureau said in a report presented to parliament the island's ties with its few remaining diplomatic allies were at risk of being undermined by financial aid packages from China.
"The warning to our new government was thick with meaning," the bureau's report said.
"It had the intention of pressuring President-elect Tsai Ing-wen to respond in her May 20 inaugural speech in a way that falls in line with China's expectations," the bureau said.
Tsai said in an interview carried by one of Taiwan's biggest dailies, the China Times, on Monday that both sides should show goodwill in the period before she is sworn in.
"Through the expression of goodwill, the hope is to build a foundation of trust," Tsai said.
She said through a spokesman last week she hoped the Gambia case was not a "targeted move" by China.
Chinese Foreign Ministry spokeswoman Hua Chunying said the resumption of diplomatic ties with Gambia was "not aimed at any person".
China has repeatedly warned Tsai against any moves towards independence, while Tsai has stuck to her stance of maintaining the status quo without offering a clear policy.
Gambia broke its ties with Taiwan in 2013, but did not immediately establish ties with China.
(Reporting by J.R. Wu; Additional reporting by Ben Blanchard in Beijing; Editing by Paul Tait and Nick Macfie)