(JollofNews) – Senegal and the Gambia will hold talks on Sunday aimed at ending a three-month border blockade that has created shortages of essential daily items on both sides of the frontier.
Gambian authorities slapped a hundred-fold hike on fees for trucks entering its territory — which is completely surrounded by Senegal — without warning in February, infuriating Senegalese drivers who are now blockading the border.
Since then, Senegalese and Gambians alike have suffered shortages and the Economic Community of West African States (ECOWAS) has waded in to mediate the dispute, so far without success.
Exacerbating tensions, a long-promised bridge across the river that takes up most of the Gambia's territory has been delayed for decades, though is now due to be completed in 2017.
"This is the sixth blockade since 2000… we are demanding the border be opened at all hours, not closed every day between 7 pm and 7 am, and a bridge," Pape Seydou Dianko, a well-known figure among Senegal's militant transport unions, told AFP last week in the sleepy Senegalese border town of Karang where a long line of trucks sat idle.
Dianko and his allies pose a headache for the two countries' foreign ministers whose meeting in Dakar will be the first official talks on the topic since the border was effectively sealed off to commercial traffic.
Although the Gambian authorities have since reverted to their original tariff, years of bad-tempered exchanges at the border have taken their toll, and Senegal's deliverymen are still refusing to allow the free passage of goods.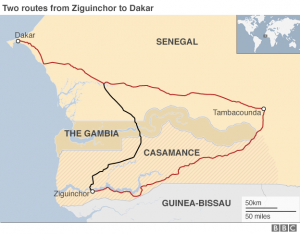 The result is a 500-kilometre (310-mile) detour around Gambian territory from Senegal's northern cities in order to access the rural southern region of Casamance.
"The detour is tough but it's the price to pay for the endless hassle from the Gambian police and customs officers," said Senegalese transporter and trade unionist Baby Toure at the Keur Ayib border post.
 'Tired' of blockade
Senegalese media reported last month that power outages have become ever more frequent in the Gambian capital due to a lack of fuel.
"In the Gambia, people are tired of the blockade. We are short of many items, including salt. This situation has to be resolved," said one resident of the Gambian border village Keur Ali, who asked not to be named.
Senegalese driver Modou Gueye found himself stuck in Keur Ali by the closure, and had to leave his vehicle where it stood. Although the blockade applies to all commercial vehicles, passengers are still allowed to cross.
"My truck, which is full of fabric, has been stuck here for three months," he said, while his colleagues reported being forced to rent properties to store their goods.
Gambians are well-used to such deprivations: in 2005 a months-long blockade over ferry tariffs by Senegalese truckers left Gambians with a shortage of bottled butane and no cement, devastating its construction industry and driving up food prices.
The dispute flared up again in 2014 when Senegal shut the frontier for several weeks.
On Friday, Senegal's foreign minister said he was "ready" to discuss the current border dispute, which although has never received official backing by Dakar, has never been publicly condemned.