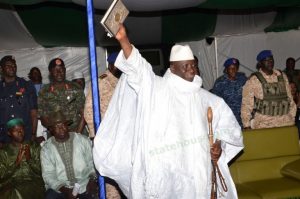 (JollofNews) – President Yahya Jammeh of the Gambia has warned his opponents and critics that his regime is here to stay and would triumph over any challenge (s).
Mr Jammeh has been in power since 1994 and has vowed to rule the Gambia for a billion years.
However, pressure is mounting on him after a series of unprecedented opposition protests demanding an end to his rule.
But speaking for the first time in public since the protest began, Mr Jammeh remained defiant and accused his opponents of being used by the West to cause chaos in the country.
He warned that people who are trying to destabilised the Gambian will never succeed and would continue to fail just like they failed for the past 21 years.
"In this country, we don't have opposition. What we have are opportunistic evil people being used by the West," he told his supporters at a rally in Farafenni, North Bank Region.
Mr Jammeh who is currently touring the nation added: "These are the people that have been formed to destabilise progressive African development but they shall fail just like they failed for the past 21 years and will continue to fail to destabilise this country for the next one thousand years.
"There is no Western country that wants to see African countries develop with independence but my government has been here for 21 years and will continue to be here whether they like it or not."
He reminded Gambians that while they are free to join any political party of their choice, his regime would come down heavily on anyone who wants to use democracy as an excuse to cause political instability in the country.