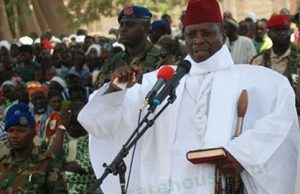 (JollofNews) – President Yahya Jammeh of the Gambia has called on foreign countries to stop meddling in the internal affairs of his country.
He said the Gambia is a sovereign nation and would not submit to the dictates of any powers.
The tiny West African state is being ruled with an iron fist by President Yahya Jammeh who seized power in July 1994. His regime is often accused by human rights organisations of gross human rights violations including summary executions, arbitrary arrests, and continuous clamp down on the media.
Recently, his regime has come under severe criticisms after it launched a brutal crackdown on members of the opposition United Democratic Party (UDP) who took to the streets in April to demand for electoral reform and the resignation of Mr Jammeh.
On Wednesday, Amnesty International accused his regime of going after opposition politicians, journalists, human rights defenders and religious figures.
"Consistent patterns of violations… have created a broader climate of fear that extends to other sections of society, in which the dominant response is one of self-censorship," the rights group said.
But Mr Jammeh has remained defiant and has accused the opposition protesters of being used by some western countries to cause chaos in the country.
Speaking at political meeting in Tanji, Kombo South, on Tuesday as part of his annual Meet the People's Tour, Mr Jammeh said his government is here to stay and his critics and opponents who are trying to cause political instability would fail.
"Those African sons who are backed by some western forces to destabilised the African continent would always fail in their devious intentions," Mr Jammeh told his supporters.
"Any country that is backing the enemies of this country would continue to fail. My enemies have tried everything they could to destabilise the country but they continued to fail."
Mr Jammeh said 99 per cent of Gambians are decent and peace-loving people and it is only a tiny minority that is trying to destabilised the country.
He added: "Only 1 per cent of indecent people would not be allowed to destabilise the country therefore call on the West to stay away from the Gambia. If you think blacks are sleeping, Gambians are fully awake."