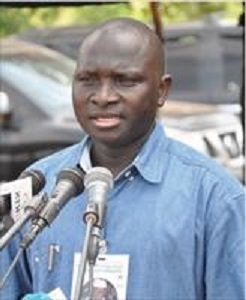 (JollofNews) – The Gambian regime of President Jammeh is banning all forms of demonstrations  to preserve peace and security in the West African country, the minister of the Interior said.
OusmanSonko said the Gambia under the leadership of President Yahya Jammeh has registered huge developments and the government would not allow a few minorities  to take to the streets and destroy those achievements.
The Jammeh regime has come under mounting pressure after a series of unprecedented  protests  by supporters of the main opposition United Democratic Party (UDP) demanding an end to Mr Jammeh's 21-year rule.
The government has described the protesters as a bunch of 'troublemakers' and has arrested and detained several protesters including the leadership of the UDP. Some of those detained were alleged to have been tortured and at least one detainee, Ebrima Solo Sandeng, is reported to have died in custody.
The right to peaceful protest is recognised under Section 25 of the Gambian constitution as well as international human rights treaties ratified by the country. However, the country's criminal laws requires people to obtain permit from the Inspector General of Police (IGP) before taking to the street.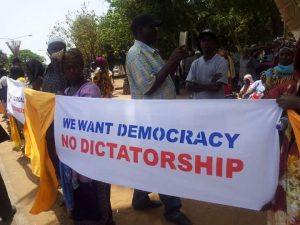 It is not clear whether the government is going to amend the consitution to before imposing a blanket ban on demonstrations, but the Interior minister  said while every Gambian has rights, they go with responsibilities and no demonstration would be allowed.
"Demonstrations of any kind would not be compromised here. If anyone does it, that person would regret it," Mr Sonko said at a political rally held on Thursday in Tallinding.
"We will not compromise 21 years of huge development to be destroyed by few minorities."
The minister warned community heads and landlords  to vet their tenants before renting out their properties. He said landlords who allow their properties to be used as a haven by criminals and other undesirable elements would be prosecuted.