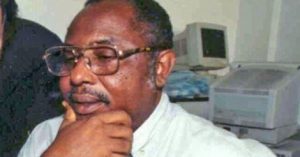 It is yet another anniversary of the assassination of Deyda Hydara, Managing Editor and co-founder of The Point newspaper, and his family, colleagues and friends are still waiting for justice.
It was 17 years ago, on 16 December 2004, when a group of 'Junglers' apparently on the orders of former President Yahya Jammeh ambushed his car on the Sankung Sillah Road in the Kanifing Industrial Estate, near the headquarters of the then Tactical Support Group (TSG), known today as the Police Intervention Unit (PIU), killing him on the spot.
It had been 16 years of anguish by his family, colleagues and friends, both at home and abroad, and all efforts to get the government to investigate the killing fell on deaf ears as it became quite obvious that the Jammeh regime had something to hide.
However, with the revelations at the Truth, Reconciliation and Reparations Commission (TRRC), we now have a clear idea as to who killed him, but we are still waiting to know what punishment awaits those who did it. Therefore, we are all anxiously waiting to hear what the TRRC report has recommended with regard to his killers and how President Adama Barrow is going to handle the report.
While the TRRC report is yet to be made public, but it is quite clear that it has recommended that those who bore the greatest responsibility in the numerous atrocities committed under the Jammeh regime should be prosecuted, and therefore, we expect those responsible for Deyda's cold blooded murder as well as those who gave the order should equally be held responsible for it.
During the presentation of the TRRC report, we heard President Barrow make emphasis on reconciliation, which no doubt everyone should support. However, it is extremely important that those who committed the gravest crimes such as the cold-blooded killing of innocent people, should be punished, otherwise, it would tantamount to encouraging impunity.
Now that President Barrow has been re-elected with a strong mandate, we expect him to make the TRRC report one of his priority engagements as all Gambians are eager to see him take the necessary action.