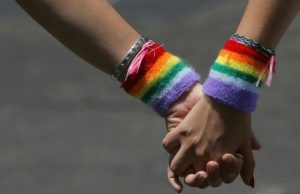 Eleven lawmakers have tabled a bill in the Senegalese parliament to amend paragraph 3 of Article 319 of the amended Penal Code which would guarantee stiffer penalties for homosexual offenders.
This flies in the face of some world leaders.
From Barack Obama to Justin Trudeau, Western leaders have come to plead the cause of the LGBT community in Senegal to no avail.
President Macky Sall remained adamant.
"Cultures are different, as are religions and traditions. Senegal is a tolerant country, but we are not ready to decriminalize homosexuality" he once told the United States' first black president.
Seven years later, the Canadian Prime Minister ran into the Senegalese leader and raised the issue but President Sall stood his ground.
"The laws of our country follow realities that are a summary of our cultural values. They reflect our vision, our way of living and being. And these laws prohibit the exhibition or display of unnatural relations. This has nothing to do with homophobia. We cannot say in Senegal that tomorrow we must legalize homosexuality; and that tomorrow is the Gay Pride… It is not possible. Our society does not accept it".
Despite this unequivocal position, the LGBT lobby continues to pursue its agenda for the recognition of the rights of this community.
According to the eleven opposition MPs sponsoring the bill, "it is therefore urgent to strengthen the repression of unnatural acts to protect the Senegalese nation."
Their bill, they said, has the modest objective of echoing the legitimate concerns of the vast majority of believers in Senegal.
Mamadou Lamine Diallo, Moustapha Mamba Guirassy, Mame Diarra Fam, Cheikh Abiboulaye Dieye and seven other parliamentarians explained that Senegalese citizens, already rejecting what they consider to be "counter-values," may be tempted to "take justice into their own hands" if the law does not take into account their deepest aspirations.
Paragraph 3 of Article 319 of the penal code which is the subject of the bill, states: "Any individual, who commits an indecent act or has carnal knowledge of any person against the order of nature, will be punished by jail time of one to five years and a fine of 100,000 to 1,500,000 CFA francs".
In the opinion of the champions of the bill, anyone found guilty of unnatural sexual tendencies should be punished with "a sentence of five to ten years' imprisonment and a fine of one million to five million CFA francs, without the possibility of granting extenuating circumstances.
In the vanguard of the fight to preserve morals in Senegal, several civil society organizations, including the NGO Jamra, last May held a large rally at the Place de la Nation in Dakar, against the promotion of homosexuality in the country.
Written by Ibrahima Dione