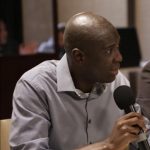 Friends and family, enemies and detractors, pretenders and Facebook spy-friends, after careful consideration and a thorough analysis of the political landscape, I have decided, with utmost humility, and with a profound sense of a burden, to seek your votes in the upcoming parliamentary elections.
I have just realized that our people are suffering in The Gambia and that the people deserve better. It was just yesterday that I saw the price of bread increased in Barra. That means it may have also increased in the enclave right around the corner.
While some jubilate your suffering out of bitterness because you didn't vote for them, I have decided to take responsibility and alleviate your suffering by lording over you as part of the government.
To end your suffering and help build a better nation, I am going to contest for a seat in parliament so I can get rich while championing your problems and challenges. As one parliamentarian in Brazil once said, my intent is to make everyone rich, beginning with myself and my close associates, first and foremost. I want to be accorded privileges you will never dare dream of.
Family and friends, enemies and detractors, I ask for your support so I can finally get a piece of land in my own name. I ask for your support so that I can also drive a pickup truck with "National Assembly" prominently emblazoned on the plates.
Family and friends, enemies and detractors, I ask for your support so I can finally be called Honorable honorable Mmajiki Saidy Barrow. I want my presence to be recognized when I attend gatherings and all protocols are duly observed. I want people to worship me, to shake my hand using two hands, to come to me with their problems so that my kindness will reverberate throughout the world. I want to collect any and all per diems at every given opportunity. I understand the burden of serving Africans but I know the benefits far outweigh any service I provide.
Friends and family, enemies and those of you who only come here to spy on me, I am scanning the various political parties to see which one I should align myself with.
Some of my friends who were with the opposition have already started sounding out their friends in the NPP to see if there is space for them in NPP but I must be far more calculating. It will be a disaster if I align myself with any party only to get rejected. But since NPP is the hottest client on the block, I will most likely align myself with them. Not because we share any values or principles but because being an opposition is very expensive in The Gambia.
If you're not with the president and his ruling party, opportunities tend to get rarer. You get blacklisted and survival becomes difficult. That's why many sit on the fence and claim "civil servant" or "I am not into politics" or pretend as if they love the ruling party.
That's why many go out of their way to promote the government. Those mouth-watering contracts only go to those who are in the books of those in power and their minions. It's all about opportunities. It's a hustle and I also want to hustle as a parliamentarian. Remember that when I become rich on your backs, I will continue to represent you into the unknown future.
And since I'm only getting into this to represent the people of Higher Badibu so I can get rich and famous on their backs, I will seek a seat in Higher Badibu. Representing the people comes with life-changing benefits and alkana si nharijaywo kang (bullengma hanj suma worrsak).
Once again, friends and family, enemies and detractors, those who hang on my posts and discuss me in private, those of you who can't stand me but remain my friends on Facebook, I urge you to open up your hearts thorough your wallets and sponsor my candidacy.
I seek your support to help me become Honorable Honorable Mmajiki Saidy Barrow, Honorable member of Higher Badibu. You don't have to like me to help me. We can all just pretend we are one big lovely family and peace will continue to reign.