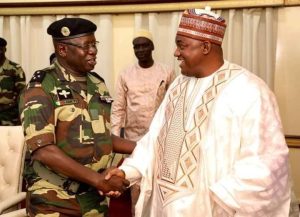 Following the tragic and unfortunate encounter between Senegalese ECOMIG soldiers and separatist forces along The Gambia's Southern border with Senegal on Monday, President Adama Barrow wishes to express his profound sense of grief to the ECOMIG Command, The ECOWAS Community and the bereaved families of the two fallen ECOMIG soldiers.
President Barrow prays that Allah in His infinite mercy accords the fallen soldiers a special place in Heaven and heals their nine injured comrades. He commiserates with the bereaved families as they go through a very difficult period, mourning the tragic loss of their loved ones.
Given the urgency of the situation, President Barrow has immediately constituted a Presidential Taskforce to thoroughly investigate the incident.
For a more inclusive and transparent investigation, the Presidential Taskforce draws membership from key Government institutions and the ECOWAS Permanent Mission in The Gambia.
Equally, President Barrow sympathizes with the people of Foni particularly, Foni Kansala, for the disruption of their daily activities and the fear and anxiety caused by the skirmishes forcing some villages to flee for safety.
Mr. Barrow is particularly touched by the pain and suffering of the people of the satellite villages of Kampant, Kappa, Ballen and Buginga and assures them of his Government's unflinching commitment to ensure lasting peace and security within their communities.
Therefore, the people of Foni and the public in general are urged to go on their normal business as the situation is under control and Government wishes to assure all, that it has no plans to use The Gambia as a Launchpad for cross border attacks.