Gambia's vaccination push received a major boost Thursday as the American government donated 100,620 Pfizer vaccines to support the authorities' efforts to combat the Coronavirus pandemic.
Speaking at the handing over ceremony held at Banjul International Airport tarmac, the Minister of Health, Dr. Ahmadou Lamin Samateh, expressed delight at receiving the Pfizer vaccines for the first time.
He went on to indicate this will add a new dimension to the country's portfolio as government continues to push ahead with plans to vaccinate 70% of the population.
Acknowledging the massive campaign initiated by his ministry to contain the devastating effects of misinformation being peddled on social media platforms, Dr. Samateh said the recognition that COVID-19 is a killer disease has been strengthened.
"Over 20% of the eligible population has been vaccinated," he added while indicating that 13% plus of the total population have already get the jab.
He further reiterated Gambia govt commitment to increase our vaccination coverage.
Highlighting a decline of COVID cases at global level, WHO Representative, Dr. Desta Tiruneh, called on the private to support government efforts to contain the spread of the virus.
He then expressed the readiness of WHO and other partners of the UN system to provide Gambia govt with the necessary technical and financial support to contain the current pandemic and strengthen the country's health system.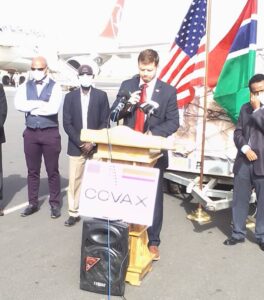 "Please, get vaccinated," he implored Gambians as vaccine hesitancy is still reality health authorities have to deal with. "If we want stop the pandemic and go to our normal life, all of us must get vaccinated."
Similar sentiments were expressed by UNICEF Rep, Gordon Jonathan Lewis, who seized the opportunity to commend the authorities for building an efficient cold chain to help store the COVID vaccines.
"We need to get to 70%," he voiced out making it very it clear that it is 'eminently feasible.'
For his part, American Embassy Deputy Chief of Mission, Jason Willis, said with these live saving vaccines, the United States has donated more than 400,000 COVID vaccines to the tiny West African nation.
The U.S diplomat further stated that the Pfizer doses are a portion of the 4 billion vaccines provided by the Biden administration to support the global fight against the pandemic.